---
Welcome to the Brighten Up Bar located in the heart of downtown Kamloops! My name is Kathy and I am a Certified Cosmetic Whitening Technician and Educator trained under the guidance of a Certified Dental Professional. We provide superior Cosmetic Teeth Whitening in a IHA and WCB compliant office. We are not your typical whitening studio in that we have hand picked the best products from several manufacturers to create our own unique system that is not available anywhere else. Our treatments include clinical grade products that are used and endorsed by dental professionals across Canada. Each treatment is customized for your specific needs without the use of pens or trays and with minimal to no sensitivity. Included is a complimentary take home kit so you can maintain and prolong your results in between office visits. Please feel free to reach out if you have any questions, consultations are always complimentary.
---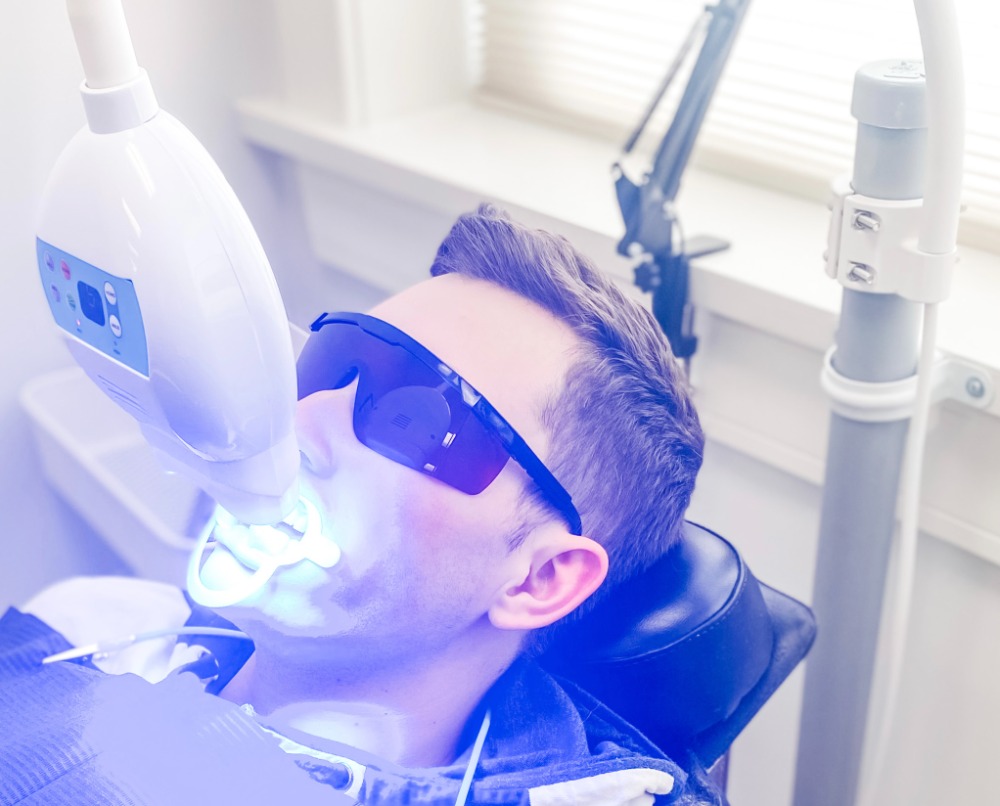 *Health Canada Regulated Products
*Fully Licenced & Insured
*All Natural Ingredients with No Parabens
*Vegan, Gluten, Soy and Cruelty Free
*Peroxide Free Available
*Instant Results *Dentist Endorsed
*Safe For Enamel & Exsisting Dental Restorations
*Take Home Kit Included With Each Treatment
---
Initial Appointment
---
This treatment is for clients visiting the office for the first time. All appointments begin with a consultation. We will discuss your past/current oral health and any previous whitening experiences as well as go over any possible allergies in relation to the ingredients in our whitening products. From there we will take a closer look at your enamel and gums noting any areas we need to be cautious with such as gum recession, cracks or weakened enamel. At this point we will decide which whitening formula is best suited to your individual needs. Please allow 90 minutes for this appointment. This will ensure enough time to go over the treatment thoroughly as well as answer any questions that may arise. All Initial Treatments come with a take home kit so you can maintain your in office results at home. $149 PLEASE NOTE OUR CANCELLATION POLICY
---
Maintenance Appointment
---
This treatment is for clients that have already been in to the office for an Initial Treatment. When you return for a maintenance appointment will depend on the genetic make up of your enamel, your consumption of high staining food/beverages and your oral habits. For most people, this is between the 8-12 month mark. The take home kit from your Initial Treatment will help to prolong your in office results, so return times vary from client to client. You can expect the same custom care as the Initial Treatment and it includes a refill pen for your take home kit.
$109
PLEASE NOTE OUR CANCELLATION POLICY
---
---
I am absolutely floored by how amazing Kathy is and how much she pays attention to detail! The Brighten Up Bar is spotlessly clean and organized. Kathy was incredibly accommodating and thoughtful. The results were absolutely amazing and I am so happy with EVERYTHING. My service had so much thought put into it, and was beyond fantastic start to finish. I will absolutely be coming back, and recommending this service to friends - you won't regret coming here!

"I love love love my teeth after I'm done at Brighten Up Bar and I also love love love being there. Not only is Kathy the best at what she does, she is also the best at making you feel like you are the most important person in the room.⁠ If you want to feel like a million bucks and want the brightest smile, Kathy is the person that can do it! I 100% recommend going to Brighten Up Bar for that glowing brilliant white smile!"

"Brighten Up Bar is an amazing space! Kathy was so friendly and personable. My teeth look Incredible."⁠ ⁠

"I was very impressed by the treatment I received. Kathy is articulate and professional, and her knowledge of oral health was impressive and not at all what I was expecting - I felt like I was talking to a colleague! Plus, the space is clean, fresh, and her safety standards are top notch. I would recommend Brighten Up bar over and over again."⁠

"I could have fallen asleep it was so relaxing. No pain at all and amazing results! Amazing value and overall 10/10. ⁠ I highly recommend going to Brighten Up Bar for your teeth whitening needs."

"I had such a lovely experience at the Brighten Up Bar with Kathy. She was so bubbly and warm! If you are thinking about getting your teeth whitened, I highly recommend going to see her."

"Outstanding experience! I wasn't sure what to expect as I had been disappointed with other teeth whitening in the past. But Kathy is just awesome. She's really professional and the results are mind blowing. Highly recommend!"

I had the most amazing results and experience on my teeth whitening. Highly recommend! I usually use custom dental trays and the results with Brighten Up Bar were 10 times better! Thanks again and can't wait to come back.

The Brighten Up Bar is super nice and very professionally operated and maintained. Kathy is amazing in what she does and also a delight to visit with. My results were fabulous AND... Kathy totally spoils you with the care package your sent home with!! Well worth the money and time, highly recommend

Kathy's space is so lovely and she is so warm and welcoming! Super happy with my experience, would definitley recommend!!

I am blown away by how positive my teeth whitening experience with Kathy was. I never would have expected something like this could be so easy and relaxing. Kathy is a lovely person and ensured all throughout the process (and even the day after) that I was comfortable and my teeth and gums felt good. Felt very safe in her expert hands. Would 100% recommend to my closest family and friends and I will most definitely be seeing her again in 8 months for my touch up appointment. Thank you so much Kathy!

I definitley recommend Brighten Up Bar to anyone looking to whiten their teeth! Kathy is so friendly and made sure that I was comfortable during the entire process. I could not be more pleased with my experience and the results!

So professional!! Excellent Products! Outstanding results!

I left with beautiful bright teeth! I was told I wouldn't be able to do this as I have veneer's on a few teeth.  I now have the whitest smile I have has in years. No pain, very relaxing,clean and professional.

Great experience, Great results!!

Wow! what a difference - I am so imprssed & highly recommend!

Ok, I cannot stop staring at my teeth.... so white!! AND ZERO pain! During, and after, which is huge for me!! I will not trust anyone besides Kathy to whiten my teeth ever again, I am sooo happy!!

Look no further if you are wanting to brighten your smile, but have teeth sensitivity issues. Brighten Up Bar is your place. Kathy is professional, knowledgeable, kind, and welcoming! A fantastic experience from start to finish. Before my appointment I wasn't sure what kind of results to expect as I was nervous because I have extremely sensitive teeth from a accident years ago. So I was hesitant to get my teeth whitened. Before booking my appointment Kathy took the time to listen to my concerns. At the appointment; Kathy was able to adapt her process to ensure a positive experience for people with extremely sensitivity issues. I am blown away with my results. The whitening has not bothered my teeth. She did a fantastic job. I have now seen her twice and still no issues! Highly recommend her!!! Hands down the best. Oh, and she even sends you home with a little care package!!

I can not say enough great things about the Brighten Up Bar ! Kathy is extremely knowledgeable and her work speaks for itself. I was blown away by the results and how comfortable the whole process was. The after care goodie bags are such a sweet little treat to top the whole thing off ! If you've never had your teeth whitened check out the brighten up bar ! You will be so so glad you did.

I cannot say enough great things about my experience. I had two sessions with Kathy and I was blown away at the results. Kathy is the kindest, most genuine human. If you are looking to get your teeth whitened without sensitivity issues, then book your session now! The sessions were safe and clean. Overall great experience, five stars for sure!

Kathy is one of the kindest, friendly humans I've had the pleasure of meeting. Her service is totally custom and thoughtful - I wouldn't trust my sparkly smile with anyone else! If you live in the Kamloops area, I highly recommend paying her a visit.

"I had such a fun time with Kathy, chatting with her before she began my seamless, custom whitening process. She also informed me every step along the way - I felt comfortable. You can tell she is passionate about her career and her client's smiles! And a smile can replace a thousand words."

"My experience at Brighten Up Bar was flawless, from start to finish. The attention to detail Kathy has put into her studio environment, take home swag bag, and constant pursuit of the best products is amazing! She and I laughed and talked in complete comfort. It was such a wonderful and genuine experience - it was the best money I have spent on myself in a LONG time. And to top it off, the high quality of service was very reasonably priced. Win win win!"

"Brighten Up Bar gave me #RossWhite teeth...I highly recommend my Kamloopian friends to pay this awesome little place a visit."

"I am super impressed with Kathy from Brighten Up Bar after I was treated to an amazing whitening session. Zero stress, zero sensitivity, and very impressive results! The take home maintenance kit was an awesome surprise too! Highly recommend."